Model NO.:

GT7C 360

Power Source:

Electric

Automatic Grade:

Manual

Customized:

Customized

Working Pressure of Autoclave:

0.3MPa

Design Temperature:

147 Degree C

Usage:

Canned Food, Glass Jar, Pouch

Heating Mode:

Electric Heating/ Steam Heating
Process:

Thermal Processing

Certification:

CE

Application:

Milk, Canned Food

Capacity:

500L

Designed Pressure of Autoclave:

0.35MPa

Working Temperature:

121 Degree C

Material:

Ss304/ 316

Origin:

Wenzhou China
Sterilization Pot autoclave retort for packing food



1. Water retting
2. Energy Saving
3. Manual operation, easy operation
4. Uniform heat distribution, no dead angle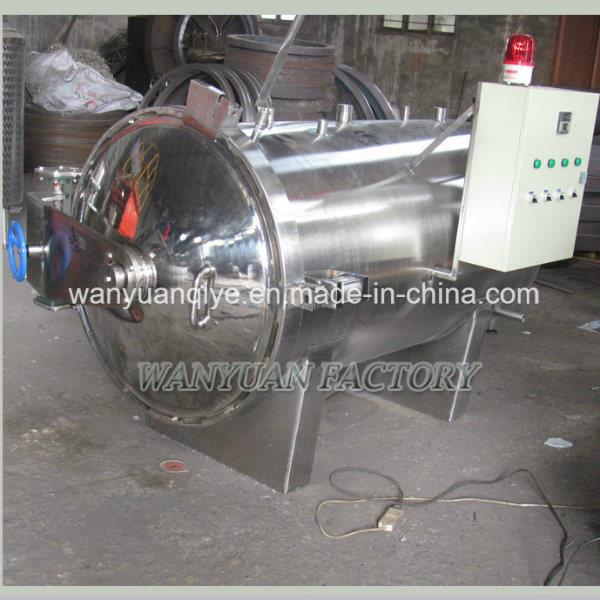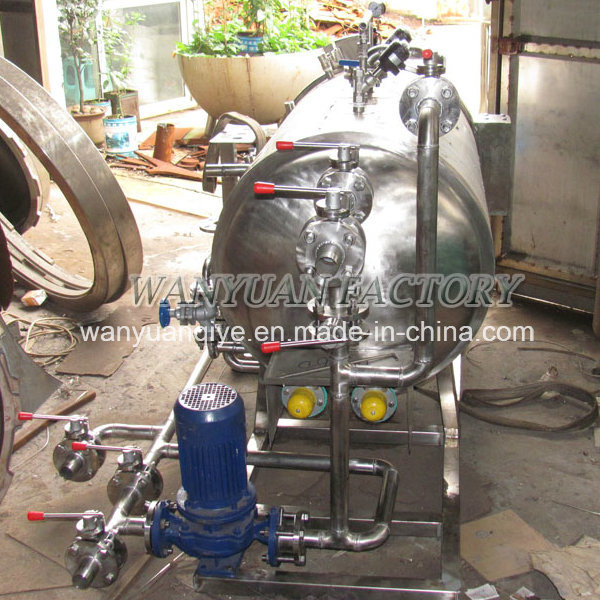 It's suited as the two-stage sterilization equipment of bag-packing or case-packing food. It is composed of technology tank, hot water, cold water tank, heat exchanger, all kinds of pump valve, connection pipe and semi-automation control system. The soft water inside the tank keeps on spraying fan-shaped and belt-shaped hot water which pose a wave-like motion to the being sterilized after it goes through the heat exchanger or after it cools off. The heat diffusion is rapid and well distributed. It can reduce the possibility that the packed goods are not artistic because of the influence of the outside water quality.

Here below retort autoclave specification
Model

GT7C 720Â 

GT7C 1200

GT7C 2000Â 

GT7C 2400

Category

Elementary Pressure Vessel

Internal Diameter (mm)

900

1000

1100

1200

Volume( m³)

1.2

2

3.5

4.2

Design Temperature

143 degree C

Working Temperature

123 degree C

Design Pressure

0.3 MPa

Working Pressure

0.15 MPa

Working Medium

water\steam\compressed air

Main Pressure Part Material

SS304

Welding Coefficient

0.7

Corrosion Allowance

1mm

Net Weight(kg)

600

1100

1700

2000

External Dimensions(mm)

length

2100

2800

3700

4000

Width

1300

1450

1600

1600

height

1650

1700

1800

1900
CNC machining aluminum anodizing wheel lug nut, M12x1.5 Chrome Wheel Nut auto racing colored lug nut Aluminum Wheel Nut in sets, Spiked aluminum extended tuner Lug Nuts for wheels, Racing aluminum Wheel Lug Nuts colored aluminum wheel lug nuts, Spline Tuner Wheel Lug Nuts

Open powder coated aluminum extended wheel lug nuts. D1 Spec aluminum wheel nut/lug nut for racing car M12X1.5 Open, fit for Honda, Mitsubishi, Ford, Toyota, Hyundai, Kia, Acura, Lexus and other car makes. Color: red, yellow, blue, green, black, gold, purple, titanium,gun-metal,pink, Neo-chrome; Thread: M12X1.25, M12X1.5, 7/16"-20, 1/2"-20, M14X1.5, M14X2, 3/8"-24, M12X1.75, 9/16"-18, M10X1.25; Material: 6061 aluminum. 1set=16nuts+1key+blister package or 1set=20nuts+1key+blister package.
We can complete processing according to the drawings and samples provided by our customers.
1. Material: Aluminum, Brass, Bronze, Copper, Stainless Steel, Steel / Steel Alloys, Nylon are all OK;
2. Machining: Machining center, CNC, conventional machines, all current processing methods
3. Surface treatments: Shot blasting, galvanizing, powder coating, painting, polishing and passivated.
4. Main equipment: CNC lathe, automatic lathe, CNC machine etc.
5. Quality control: Chemical analysis, mechanical properties for tensile strength, yield stress, elongation, impact testing, pressure testing, 3D coordinate CMC, metallographic, magnetic particle flaw inspection.
Aluminum Lug Nuts, Chrome Wheel Nut, Aluminum Wheel Nut
NINGBO HAISHU SOONG AUTO PARTS CO., LTD. , http://www.soongautoparts.com