In the wireless bridge transmission system, many engineering associations are troubled because the transmission signal of the wireless bridge is too weak. In fact, without replacing the wireless bridge equipment, we do a few things to effectively improve the wireless bridge. signal.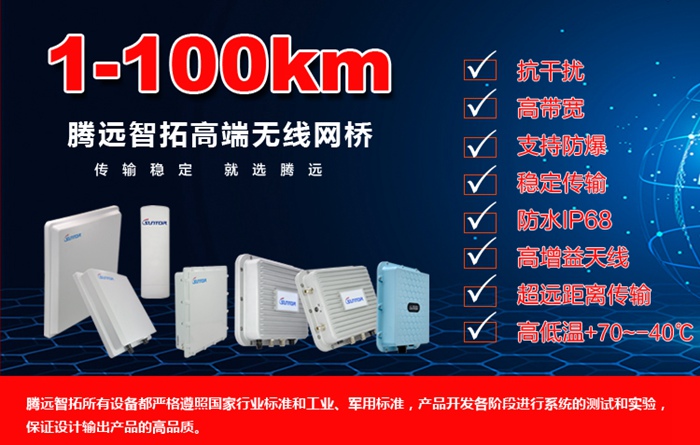 1. Reasonable placement
Since wireless signals propagate in a straight line, if obstacles are encountered during transmission, the signal strength of wireless communication will be weakened. After passing through metal obstacles or buildings, the wireless signal will be attenuated to some extent. If the method of elevating the equipment still cannot avoid the covering, then it is necessary to avoid the middle covering by adding relays.

Second, modify the signal transmission frequency band
In the wireless bridge transmission environment, when there are multiple wireless signals using the same wireless signal channel, signal interference will occur. Many users have not modified the wireless signal channel after purchasing a wireless router, so that everyone uses the channel when the router is configured by default, so that channel interference is easy to occur. If there are nearby neighbors using the same channel as ours, then the wireless signals of both of us will be affected. So when the signal is bad, we can try to modify the signal transmission frequency band
3. Avoid interference from similar products
Like all wireless communications, wireless networks are also subject to interference from other electromagnetic waves. These similar devices will cause instability to the signal of the wireless bridge, because when building a wireless bridge transmission system, other similar microwave devices in the vicinity should be removed or avoided.

Fourth, choose the appropriate wireless bridge gain antenna
The gain antenna has a great influence on the wireless bridge signal, but it is not that the higher the gain of the gain antenna, the stronger the signal. In general, when long-distance data transmission is required and the signal strength is required to be guaranteed, the gain value should be selected Large antennas, and for wireless networks with short transmission distances, antennas with small gain values ​​can be selected.

5. Adjust the angle between the transmitter and receiver of the wireless bridge
Most wireless bridges are transmitted using dual-polarized antennas, so the antenna angle of the wireless bridge must not only be aligned horizontally, but also the pitch angle must be aligned to ensure that it can communicate within its signal range.

Grasping the above points, you can effectively increase the strength of the wireless bridge transmission signal. Therefore, in order to ensure the transmission stability, a professional technician is required to install and debug the wireless bridge system.
air conditioner system
Guangzhou Ruicheng Enterprise Services Co., Ltd. , https://www.rayparts.cn